Lucy Orta's Artistic Residency in Ibiza and Mallorca.
Mallorca Reflecting on samples for `Red Coral` artwork in AAA Studio, Cultural arts artists Arina Antonova's studio.
I chose terracotta sourced from Villafranca, Majorca, as a primary medium to experiment with the local craft tradition. My co-collaborator for Marlands, Majorca-based artist and ceramicist Arina Antonova ( AAA Studio) pre-prepared samples.
Research samples became reflective tools for thinking through the role of color and how it can be applied to express materiality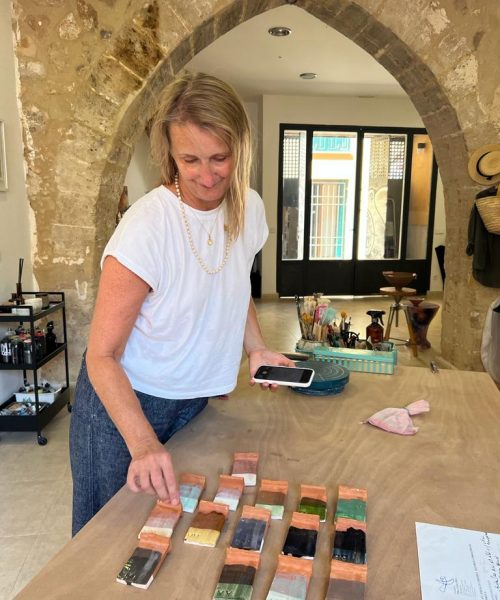 Photo credit: Lucy Orta.
In my first online meeting with marine science researchers, we discussed highly endangered endemic Mediterranean species. Corallium rubrum —red gold— has been an important resource for the Mediterranean, harvested for millennia. Non-selective trawling has been used since the 3rd and 4th centuries and it has gradually destroyed  entire colonies, being finally banned in the EU in 1994. Increasing heatwaves, warming seas, and ocean acidification are further threatening the species, with the risk of extinction by 2100.
Red coral also holds religious and apotropaic meanings, across the Mediterranean amulets and good-luck charms are still offered to infants and newlyweds.
Under the skilful hands of Arina, the moist and velvety, local Terracotta sourced from Villafranca was placed out to dry for the first molding experiments.